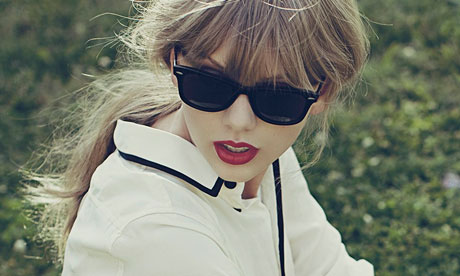 I am a Taylor Swift fan. A big Taylor Swift fan.
I went to see her Fearless tour in Chicago two years ago, and I screamed like an 11-year-old girl who's just spotted Justin Bieber in Times Square. It might have been embarrassing, except that everyone in the 18,000 person stadium was screaming as loudly as I was. (I think the three 20-something guys two rows in front of us were actually the loudest fans that night. Maybe ever.)
I haven't always been pro-Taylor. In fact, the first time I heard "Love Story" I cringed. "Marry me, Juliet, you'll never have to be alone" – What is that? What kind of message is that sending to impressionable young girls, I wondered. Committing to spending a lifetime with someone is about much more than not being alone; alone doesn't necessarily mean lonely; meeting a great guy isn't the end of a girl's story, it's just one (albeit important) part. The feminist in me was pretty nonplussed. This chick was perpetuating all kinds of messed up gender paradigms. Juliet, you're only as good as your Romeo.
But then, Gloria Steinem forgive me, I fell in love. I fell in love with the story of Taylor Swift.
It kind of snuck up on me, like they say these things do. Here's the thing about Taylor: You think she's singing about all the boys she's loved and lost, and she kind of is. But I'm pretty convinced her real story isn't about a girl and a boy; it's about a girl and a dream.
One of my favorite Taytay songs (yes, I call her Taytay — we're close) is "Fearless":
"And I don't know how it gets better than this//You take my hand and drag me head first, fearless.//And I don't know why, but with you I dance//In a storm in my best dress, fearless."
Recently, Taylor and her band were performing that song in Foxboro, Massachusetts, in an outdoor venue. She wrote about it later on her blog:
"I swear as soon as I sang the words, 'With you I'd dance in a storm in my best dress, fearless' … I felt a drop of rain hit me. Then there was another one, then there was another. And then it turned into an absolute downpour. Everyone is soaking wet. And at this point in the show, about halfway through our set, this fear came over me that everyone was going to leave the concert. I tried to push it way back into the back of my mind and just kept playing, and to my surprise, the strangest thing happened. No one left. Instead, this ocean of people in front of us just started dancing even more, screaming even louder … And that night, I actually got to dance in a storm with them. In my best dress. I'll never forget it."
Ostensibly, this song is about a Just-Your-Average-Girl and Boy #442. Actually, it's about an Anything-But-Average Girl and a crazy, audacious, impossible dream. It's about hard work, gumption, creativity, and an unqualified dedication to an art, a craft, a career. It's about choosing love of the song over fear that nobody wants to hear it. 
The truth is that Taylor Swift is, in fact, a naive ingenue who's looking for true love and happily-ever-after with Prince Charming. She's also a savvy business woman who's chasing a big life and a happily-ever-after with herself. This isn't the story of Taylor Swift and Taylor Lautner, or John Mayer, or Joe Jonas, or Jake Gyllenhaal. It's the story of a girl who has the guts to believe in what she's got, to live a life as big as the biggest one she can imagine. Dancing in a storm, in her best dress. Fearless.
I'm not sure how Ms. Steinem would feel, but that's something this feminist can get behind. And if Taylor can teach young girls to be that kind of fearless, that's pretty cool too.